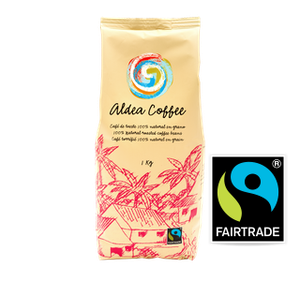 ALDEA COFFEE
100% NATURAL (1 kg)

Natural roasted coffee beans without adding any other ingredient.

Composition
It is Fair Trade coffee that reflects Torrelsa's responsible commitment to small-scale coffee producers in less favoured countries. Aldea Coffee responds to this sensitivity and offers a coffee of the highest quality with the accreditation of the Fairtrade organisation.
General characteristics
The properties of coffee have long been known to stimulate memory and alertness levels, in addition to acting as an attenuator of fatigue.
Tasting notes
Visual appearance - Abundant and persistent cream. Hazelnut colour, with reddish tones.
Olfactory notes - Aromas of caramel, cocoa and cinnamon.
Taste characteristics - Intense, sweet, balanced and moderately robust coffee. It presents slight acidity and some complexity.