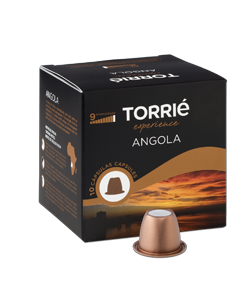 ANGOLA CAPSULE - NESPRESSO®* COMPATIBLE
The perfect solution for a good espresso at home.

Natural roast ground coffee, without adding any other ingredients.

Composition
The varieties of the Torrié Experience range transmit to the most demanding coffee connoisseur colours and scents characteristic of each place, through sensations. The daily ritual of savouring a good coffee reveals the experience of a universe of experiences from different corners of the world, where varietal coffees were carefully selected. The strength of Africa materialized in a coffee where portuguese roots are revived.

General characteristics
Its properties have long been known to stimulate memory and raise alertness levels, as well as reduce fatigue.
Tasting notes
Visual aspect- Abundant and persistent hazelnut cream.
Olfactory notes - Notes of wood, with notes of cocoa, vanilla and caramel.
Taste characteristics - Full-bodied, velvety coffee, very smooth and balanced. It is sweet and has low acidity.
Presentation
Individual - Packed in a protective atmosphere, in a polypropylene capsule, sealed with aluminium film.
Packaging | Sales Unit - Cardboard box, containing 10 individual doses.
Additional information
Capsule compatible with Nespresso® machines *
* Nespresso® is a brand of another company.