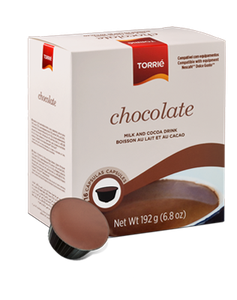 CHOCOLATE CAPSULE - DOLCE GUSTO®* COMPATIBLE
Powdered preparation for milk and cocoa drink.
Composition
Powdered preparation for milk and cocoa drinks.
General characteristics
This chocolate incorporates thinner cocoa sources, resulting in a drink of high density. A recipe full of tradition.
Tasting notes
Visual appearance - Characteristic chocolate colour.
Olfactory notes - Aroma of cocoa and chocolate.
Taste characteristics - Pleasant. Full-bodied, round and velvety. Smooth and persistent.
Presentation
Individual - Packed in a protective atmosphere, in a polypropylene capsule, sealed in the top with a complex film (PET / OPA / PP).
Packaging / Sales Unit - Cardboard box, containing 16 individual doses in a bag of metallized PET / PE film.
Additional information
Capsule compatible with Nescafé®Dolce Gusto® machines *
* Nescafé® Dolce Gusto® is a brand of another company.