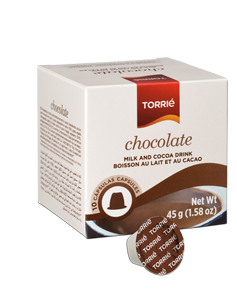 CHOCOLATE CAPSULE - NESPRESSO®* COMPATIBLE
Cocoa-based food preparation.
Composition
Sugar, whey powder, lean cocoa powder (16%), hydrogenated vegetable fat, cocoa mass, whole milk powder, thickener (E415), anti caking agent (E341 (iii)) and flavourings.
General characteristics
Cocoa-based food preparation.
Tasting notes
Visual appearance - Chocolate brown.
Olfactory notes - Aroma of cocoa and chocolate.
Taste characteristics - Sweet taste. Good volume in the mouth with a velvety character. Long finish in the mouth.
Presentation
Individual - Packed in a protective atmosphere, in a polypropylene capsule, sealed with aluminium film.
Packaging | Sales Unit - Cardboard box, containing 10 individual doses.
Additional information
Capsule compatible with Nespresso® machines *
* Nespresso® is a brand of another company.