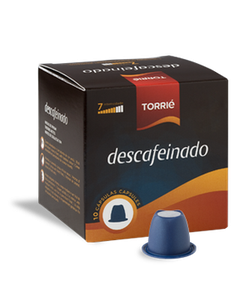 DECAFFEINATED COFFEE CAPSULE - NESPRESSO®* COMPATIBLE
The perfect solution for a good espresso at home.

Decaffeinated natural roast ground coffee without adding any other ingredients and without the properties of caffeine.
Composition
Blend obtained from the combination of beans from the best Robusta and Arabic origins that were decaffeinated. A delicate flavour with a strong aroma.
General characteristics
Product with characteristics similar to those of coffee, except for the caffeine content, which is practically zero. Especially intended for people with a low tolerance to caffeine or who are prevented from consuming it for health reasons.
Tasting notes
Visual appearance- Abundant and persistent hazelnut cream.
Olfactory notes - Aromas of caramel, cocoa and dry fruits.
Taste characteristics - Elegant acidity. It is intense, medium-bodied and has a persistent finish.

Presentation
Individual - Packed in a protective atmosphere, in a polypropylene capsule, sealed with aluminium film.
Packaging | Sales Unit - Cardboard box, containing 10 individual doses.
Additional information
Capsule compatible with Nespresso® machines *
* Nespresso® is a brand of another company.