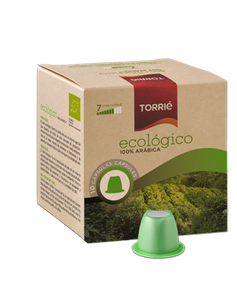 ORGANIC CAPSULE - NESPRESSO®* COMPATIBLE
The perfect solution for a good espresso at home.

Natural roast ground coffee, without adding any other ingredients.
Composition
Blend made up of coffees from organic farming, accredited by CODIMACO, entity responsible for the accreditation of the G.A.P.. The organic certification guarantees that the coffee has been produced following the rules of organic farming: without pesticides and / or herbicides.
General characteristics
It has been known for a long time that the properties of coffee stimulate memory and alertness levels as well as acting as an attenuator of fatigue.
Tasting notes
Visual appearance- Characteristic brown cream with high persistence.
Olfactory notes - Aromas of caramel and dark chocolate, with floral notes.
Taste characteristics - Elegant coffee with medium body and high acidity. Complex and long flavour.
Presentation
Individual - Packed in a protective atmosphere, in a polypropylene capsule, sealed with aluminium film.
Packaging | Sales Unit - Cardboard box, containing 10 individual doses.
Additional information
Capsule compatible with Nespresso® machines *
* Nespresso® is a brand of another company.