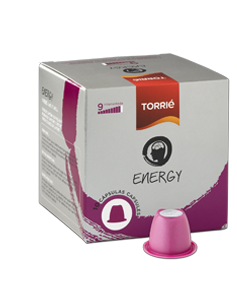 ENERGY CAPSULE - NESPRESSO®* COMPATIBLE
The perfect solution for a good espresso at home.

Natural roast ground coffee, without adding any other ingredients.
Composition
Blend made with beans from the best Robusta origins and the right dose of beans from the best Arabica, enhancing a coffee with more caffeine.
General characteristics
Several studies indicate that caffeine stimulates the nervous system, awakening attention and concentration. This product contains approximately 30% more caffeine than your regular Torrié capsule.
Tasting notes
Visual appearance - This Torrié Energy shows an abundant and persistent hazelnut cream.
Olfactory notes - On the nose aromas of cocoa and vanilla predominate.
Taste characteristics - In the mouth it appears soft, with a slight bitterness. Round and full-bodied, it reveals a coffee full of balance.
Presentation
Individual - Packed in a protective atmosphere, in a polypropylene capsule, sealed with aluminium film.
Packaging | Sales Unit - Cardboard box, containing 10 individual doses.
Additional information
Capsule compatible with Nespresso® machines *
* Nespresso® is a brand of another company.