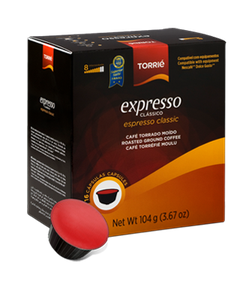 EXPRESSO CAPSULE - DOLCE GUSTO®* COMPATIBLE
The perfect solution for a good espresso at home.

Natural roast ground coffee, without adding any other ingredients.
Composition
Blend obtained from combinations of grains from the best Arabica and Robust origins that enhance their best qualities and complement each other.

General characteristics
The properties of coffee have long been known to stimulate memory and alertness levels in addition to acting as an attenuator of fatigue.
Tasting notes
Visual aspect- Abundant and persistent hazelnut cream.
Olfactory notes - Aromas of caramel, cocoa, cinnamon and toast.
Taste characteristics - Sweet, with light acidity and low bitterness. It is intense, plump and full of balance.
Presentation
Individual - Packed in a protective atmosphere, in a polypropylene capsule, sealed in the top with a complex film (PET / OPA / PP).
Packaging / Sales Unit - Cardboard box, containing 16 individual doses in a bag of metallized PET / PE film.
Additional information
Capsule compatible with Nescafé®Dolce Gusto® machines*.
* Nescafé® Dolce Gusto® is a brand of another company.