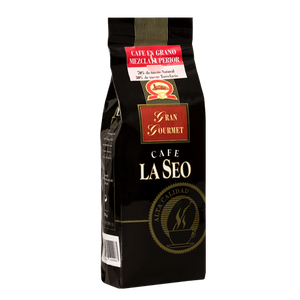 LA SEO GRAN GOURMET 70/30 COFFEE BEANS (250g)
Naturally roasted coffee beans (70%) and roasted torrefacto coffee (30%)
Composition
The perfect combination between the high quality of coffee beans from carefully selected origins and the right dose of roasted torrefacto coffee.
Ingredients list
Coffee and sugar.
General characteristics
The properties of coffee have been known for a long time to stimulate memory and alertness levels as well as acting as an attenuator of fatigue.
Tasting notes
Visual appearance - Very abundant cream, very thick and persistent.
Olfactory notes - Aromas of toasted bread and dry fruits.
Taste characteristics - Strong but balanced coffee, deep body and intense flavour. It has some characteristic astringency and bitterness.