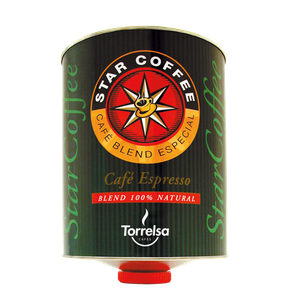 STAR COFFEE
100% NATURAL (3 kg)

Natural roasted coffee beans without adding any other ingredient.
Composition
Blend obtained from the combination of beans from the best sources of robust and Arabica. To ensure optimum characteristics, each source has been roasted separately. Its airtight container protects and preserves freshly roasted coffee, fully preserving all of its flavour and aroma properties. The coupling to the grinder protects the fresh product and avoids unnecessary handling and ensures a long and regular coffee supply.
General characteristics
It has long been known that the properties of coffee stimulate memory and alertness levels, in addition to acting as an attenuator of fatigue.

Tasting notes
Visual appearance - Abundant and persistent cream. Hazelnut colour, with reddish tones.
Olfactory notes - Aromas of chocolate, cinnamon and spices.
Taste characteristics - Intense and velvety coffee. It presents moderate acidity and high complexity. Long-lasting aftertaste.