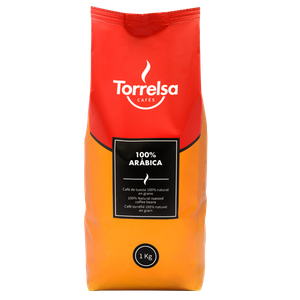 TORRELSA 100% ARABICA
100% NATURAL ARABICA (1 kg)

Natural roasted coffee beans without adding any other ingredient.

Composition
Blend obtained from the combination of the best Arabica coffee origins, allowing its acidity to transmit sweetness, freshness and citrus flavours. To respect its best characteristics, each origin has been roasted separately.
General characteristics
The properties of coffee have long been known to stimulate memory and alertness levels, in addition to acting as an attenuator of fatigue.
Tasting notes
Visual appearance - Very abundant and persistent hazelnut cream colour.
Olfactory notes - Aromas of caramel, chocolate and spices.
Taste characteristics - Balanced, velvety and complex coffee. It has moderate acidity and medium body. Intense and long-lasting aftertaste.