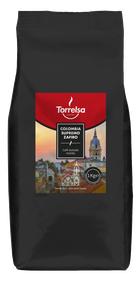 COLOMBIA SUPREMO ZAFIRO GROUND
100% NATURAL ARABICA GROUND COFFEE (1 kg) 

Natural roasted ground coffee without adding any other ingredients.
Composition
Colombian coffee is known as one of the best soft coffees in the world. It is a very fine coffee, grown on high volcanic terraces from 800 to 1900m, with extremely fertile soils that, combined with the presence of microclimates and the variety of elevation of the plantations, produce superior quality beans.
General characteristics
It has been known for a long time that the properties of coffee stimulate memory and alertness levels as well as acting as an attenuator of fatigue.
Tasting Notes
Visual appearance - Light brown cream.
Olfactory notes - Aromas of caramel and cocoa.
Taste characteristics - It is an elegant coffee with body. Sweet, fruity and citric, lingering in the mouth for a long time.