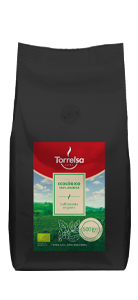 TORRELSA ORGANIC (500 g)
ORGANIC 100% NATURAL ARABICA (500 g)

Natural roasted coffee beans, without adding any other ingredient, produced with organic coffee.
Composition
Blend made up of coffees from organic farming, accredited by CCPAE (Consell Catalá de la Producció Agrària Ecológica). The organic certification guarantees that the coffee has been produced following the rules of organic farming: without pesticides and / or herbicides.
General characteristics
The properties of coffee have long been known to stimulate memory and alertness levels, in addition to acting as an attenuator of fatigue.

Tasting notes
Visual appearance - Characteristic brown cream colour with high persistence.
Olfactory notes - Aromas of caramel and dark chocolate, with floral notes.
Taste characteristics - Elegant coffee with medium body and high acidity. complex and long-lasting flavour.