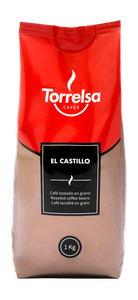 TORRELSA EL CASTILLO NATURAL BEANS
100% NATURAL (1 kg) 

Natural roasted coffee beans without adding any other ingredient.

Composition
Blend obtained from the combination of beans from the best sources of robust and arabica. To ensure optimum characteristics, each source has been roasted separately. The combination of the body of the robust beans and the fruity notes of the Arabica beans creates a powerful yet elegant coffee from the first sip.
General characteristics
The properties of coffee have long been known to stimulate memory and alertness levels, in addition to acting as an attenuator of fatigue.
Tasting notes
Visual appearance - Very abundant and persistent hazelnut cream.
Olfactory notes - Aromas of caramel, toast and notes of dried fruit.
Taste characteristics - Sweet, balanced and full-bodied coffee. Slight astringency and slight characteristic bitterness.