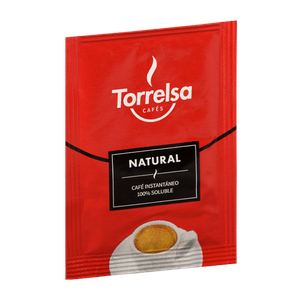 TORRELSA SOLUBLE COFFEE
Naturally roasted soluble ground coffee without adding any other ingredients.
Composition
Blend obtained from the combination of beans from the best Robusta and Arabic origins that were freeze-dried. An exquisite flavour with a strong aroma. It allows preparing a simple drink, simply by adding water and / or milk.

Tasting notes
Visual appearance - Abundant and persistent cream. Hazelnut colour, with reddish tones.
Olfactory notes - Aromas of caramel, cocoa and cinnamon.
Taste characteristics - Intense, sweet, balanced and moderately robust coffee.
Presentation
Packaging / Sales Unit - cardboard box with 100 sachets of 7 g.